One surprising thing you learn if you need to cut down on caffeine is that decaf doesn't mean zero caffeine, it means less caffeine, usually about 10% of the caffeine.
For instance a mg of Pike Place Roast black coffee has 310mg of caffeine in a grande, while a decaf still has 25mg of caffeine.
So if zero caffeine is better, i.e. if you're pregnant then decaf coffee isn't going to cut it.

Fortunately, after spending far too long studying the Starbucks menu online with all the nutritional info, I've found that there are a ton of 100% caffeine-free drinks you can order.
And I've ranked them by popularity based on how easy they are to find on the Starbucks menu, because as someone who runs a blog I guarantee they've made their most popular drinks the easiest to find because they're the ones that sell the best.
The 4 best options for caffeine-free Starbucks are: Iced Passion tango tea if you want low sugar, Steamed Apple Juice if you want non-dairy and hot, Vanilla creme if you want milky and hot, and a Caramel Ribbon Crunch Crème Frappuccino Blended Beverage if you want caffeine-free, iced, and milky.
These are actually all the caffeine-free options, there were a few that were very low caffeine but I decided not to include them.
Related Articles You Should Read
And if you want a caffeine-free Starbucks experience you can enjoy at home then you should definitely check out Zevia's Passion Fruit Hibiscus Tea at Amazon, it's sugar-free, caffeine-free, and tastes a lot like a Starbucks Refresher but without the caffeine.
Zevia's Passion Fruit Hibiscus Tea – Caffeine Free, Sugar Free
Plant based sweeteners
Great flavor
12 cans in a pack
0 calories
0 sugars
0 caffeine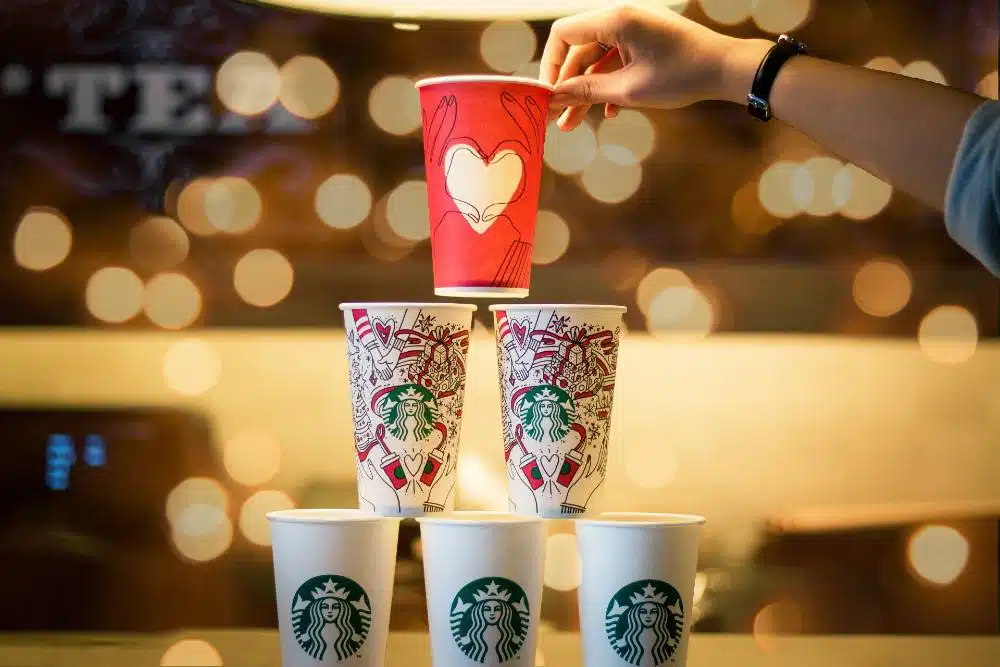 List of 20 Caffeine-Free Starbucks drinks
| | | | |
| --- | --- | --- | --- |
| Steamed apple juice | Hot | fruit juice | No |
| Vanilla Crème | Hot | Milk | Yes |
| Caramel Ribbon Crunch Crème Frappuccino Blended Beverage | Cold | Frappuccino | Yes |
| Iced Passion Tango Tea | Cold | Tea | No |
| Strawberry Crème Frappuccino Blended Beverage | Cold | Frappuccino | Yes |
| Mint Majesty | Hot | Tea | No |
| Caramel Apple Spice | Hot | Fruit juice | Yes |
| Cinnamon Dolce Crème | Hot | Milk | Yes |
| Vanilla Bean Crème Frappuccino Blended Beverage | Cold | Frappuccino | Yes |
| Peach tranquility | Hot | Tea | No |
| Iced Passion Tango Tea Lemonade | Cold | Lemonade | no |
| Iced Guava Passionfruit Drink | cold | Fruit juice | No |
| White Chocolate Crème Frappuccino Blended Beverage | Cold | Frappuccino | Yes |
| Pistachio Crème Frappuccino Blended Beverage | Cold | Frappuccino | Yes |
| Lemonade | Cold | Fruit juice | No |
| Blended Strawberry lemonade | Cold | Fruit juice | No |
| Bottle Fruit Juice | Cold | Fruit juice | No |
| Milk | Cold | Milk | No |
| Flavored Sparkling Water | Cold | Water | No |
| Water | Cold | Water | No |
1. Steamed Apple Juice
This is a very popular choice of Starbucks drink, it's just a straight-up hot apple juice but good grief is it tasty.
There's another version that I've included below which is the caramel apple spice which is steamed apple juice, with sugar syrup and cream on top, and I thought if you were looking for low caffeine you might want a lower sugar option too so I put this at the top.

Regardless, it's a delicious choice of caffeine-free drinks.
2. Vanilla Crème
The Vanilla Crème is a vanilla latte without the espresso, which brings it to zero caffeine rather than low caffeine.
A great choice for those who miss having a nice sweet coffee but need to avoid caffeine, it's not quite the same as a decaf vanilla latte as it's missing that richness you get from the espresso but it's a sweet tasty milky drink, that always leaves me feeling sleepy.
Must be hitting some childhood memories there!
3. Caramel Ribbon Crunch Crème Frappuccino Blended Beverage
This actually came top of the list in our article about the sweetest drinks at Starbucks, but while it's too sweet for my taste it's one of the 4 caffeine-free frappuccinos and is the most popular at the top of the list.
A Venti Caramel Ribbon Crunch Crème Frappuccino has 6 pumps of dark caramel sauce, with whipped cream topped off with caramel drizzle and a caramel crunch topping.
So if you like caramel yes my friend this is for you, if you like me find it a little cloying it's a frozen cup of torture drink. But this isn't about me, it's about you, lovely reader, who's kind enough to visit this site which is why it has made it to the list.
4. Iced Passion Tango Tea
The Iced Passion Tango Tea is a tea blend of hibiscus, lemongrass, and apple with a touch of cinnamon and licorice root that is hand-shaken with ice, not blended. It's got zero caffeine and is sugar-free.
This leaves you with a super refreshing drink that will have you dreaming of tropical holidays, or I suppose if you're from or in California it'll have you thinking of home!
5. Strawberry Crème Frappuccino Blended Beverage
This was my first introduction to Starbucks when I was 15 years old, I asked for coke before getting a quizzical look and told that they don't sell coke… Embarrassing, for me and the girl I was with on a date there.
But the good news was I ordered one of these instead and it was delicious. Impressively I don't think they've changed the recipe since then.
The Strawberry Crème Frappuccino is a blend of strawberry puree milk and ice, topped with vanilla whipped cream and more strawberry puree.
From what I could see this is the only Frap that's made with a puree rather than a syrup, I wonder why?
6. Mint Majesty
This is a healthy hot tea option for those looking for decaf Starbucks.
The Mint Majesty is made with a combo of spearmint and peppermint leaves combined with Lemon Verbena.
I didn't know what Lemon verbena was so I checked and it's a flowering leafy plant rather than a type of lemon, with a taste more of lemon perfume than outright lemons.
A great hot option if you're looking for zero caffeine and zero sugar.
7. Caramel Apple Spice
Here is our sweetened friend of the top choice above.
The Caramel Apple Spice is made with 5 pumps of cinnamon dolce syrup combined with steamed apple juice, topped with whipped cream and caramel drizzle.
And yes it's going to taste just as sweet as you think it might. A superb choice if you're looking for something hot and sweet to perk you up while sticking to completely decaf Starbucks.
8. Cinnamon Dolce Crème
Another milk steamer, which is surprisingly tasty and well worth giving a go if you haven't before.
The Cinnamon Dolce Crème is a combination of steamed milk with 5 pumps of Cinnamon Dolce Syrup, whipped cream on top, and Cinnamon Dolce sprinkles.
Dolce is more or less Italian for sweet, so it's sweet cinnamon syrup but dolce sounds much fancier.
Anything to do with cinnamon and milk is a win for me so this is a great caffeine-free alternative to a Chai Latte.
9. Vanilla Bean Crème Frappuccino Blended Beverage
The Vanilla Bean Crème Frappuccino is made with 3 scoops of vanilla bean powder blender together with milk and ice and then topped with whipped cream.
It's amazing how many ways you can have vanilla-flavored milk at a Starbucks, but this is the cold version of the vanilla steamer, zero caffeine, refreshing, and if one day you can have caffeine again this is really good to try with an espresso shot poured over the top like an affogato.
10. Peach Tranquility
What's strange about this is that peach tea is normally the flavor of ice tea. Through most of Europe you'll find an abundance of Lipton's Ice tea which is peach flavor, and really good if you ever get to try it.
But the Starbucks Peach Tranquility is a hot tea drink and it's made with peach (obviously), candied pineapple, chamomile blossoms, lemon verbena, and rose hips. Which all come together to make a really refreshing and really tasty tea.
A perfect warm me up on a cool spring or summer evening.
11. Iced Passion Tango Tea Lemonade
Wait… Haven't we looked at this already?
I can forgive you for thinking that, but this is the lemonade version of the drink I featured further up the list.
The Iced Passion Tango Tea Lemonade is a combination of hibiscus, lemongrass and apple, hand-shaken with ice, lemonade, and, of course, passion fruit all poured over ice. Bringing you a fruit fizzy drink with some sugar while being caffeine-free.
I prefer the still version and if you're looking to stay healthy the still version tops it because there's no sugar involved. But there's something about lemonade on a hot day that refreshes like nothing else does. Worth trying? Absolutely.
12. Iced Guava Passionfruit Drink
This is a Spring/Summer exclusive I'm pretty sure, it's on their featured menu at the time of writing this so grab it while it's here!
The Iced Guava Passionfruit Drink, guava juice mixed with pineapple and combined with 6 pumps of pineapple ginger syrup. THEN some coconut milk is added for good measure along with ice.
Very sugary compared to some of the other fruit drinks, reading the description you would think that pineapple and ginger were added in the form of tea rather than a sugar syrup, but it works and it's tasty and there's no surprise about anything at Starbucks being packed full of sugar!
The bonus is however that it is completely caffeine-free, compared to the Matcha green tea equivalent which does have some caffeine in it.
13. White Chocolate Crème Frappuccino Blended Beverage
The Starbucks White Chocolate Crème Frappuccino is made with 4 pumps of white chocolate Mocha Sauce blended together with milk and ice and whipped cream topping.
It's one of the more basic frappuccinos you can get, no drizzle on top, only one type of flavored syrup in the whole thing. But with simplicity can come elegance and this stripped-back frappuccino is tasty, it most resembles a cold hot chocolate and I really like it.
But because of its simplicity, it's not the most popular which is why it's lower down on the list.
14. Pistachio Crème Frappuccino Blended Beverage
The Starbucks Pistachio Crème Frappuccino is made with 2 pumps of sweet pistachio flavor syrup blended with milk and ice, then a topping of whipped cream and a sprinkle of Salted brown butter topping.
One of Starbucks' more unusual flavors it has to be said. And while I like pistachios when they're in a bag and covered in salt and vinegar I'm on the fence about having it in my frappuccino.
If you aren't a creature of habit who orders the same thing every time they go to a Starbucks then it's certainly worth a go. Another of their seasonal beverages so you'll have to get it while it's here.
16. Lemonade
The lemonade is… well, it's lemonade, what more can you say?
Refreshing on a hot day, a lovely sourness that gets your mouth watering, and if you don't want anything fancy it can be a great choice.
Plus it's surprisingly got a lot less sugar in it overall because there's no milk involved, neither are there any pumps of sugar syrup added for flavoring,
17. Blended Strawberry Lemonade
Earlier on in this very article, I wondered what else the strawberry puree that's in the strawberry frappuccino is used in.
Well, I have my answer!
This is the above lemonade combined with strawberry puree and creme frappuccino syrup all blended with ice to give you a slightly thicker lemonade that's a delicious strawberry flavor.
If Lemonade is too plain and you want something with that sweet Starbucks twist on it then this is the drink for you.
18. Bottled Fruit Juice
There are a ton of different fruit juices you can buy bottled out of the fridge, and every single one of them is caffeine-free.
Which is great, because it would be much more worrying if they were somehow adding caffeine to their orange juice, I know everything has added sugar but added caffeine would just be wrong.
Or even worse an espresso in your fruit juice. Yuck…
19. Milk
You can order a straight-up glass of milk that of course has no caffeine in it, but I'm talking about their cartons on milk because sometimes chocolate milk can have a little caffeine in the same way a hot chocolate can. But neither the chocolate, vanilla, or plain organic milk have any caffeine so they are all fine choices.
A great choice if you have young kids with you who you certainly don't need any more hyper than they already are!
20. Flavored Sparkling Water
Again you can buy plain bottled sparkling water which is of course caffeine-free, but both the tins of Spindrift water, the raspberry lime, and the grapefruit flavors are free from caffeine.
This seems obvious but all the fruity refreshers actually have green tea in them which adds caffeine so it's worth checking. But luckily they are all caffeine-free.
21. Water
If in doubt and you need to be super careful about your caffeine intake, then stick to water, it's always a safe choice. And bizarrely Starbucks offers 3 types…
You can get a glass of water from the tap, you can buy a bottle of Ethos water which donates money to humanitarian causes, or you can buy some Hawaii Volcanic water, which is from Hawai'i.
Starbucks Drinks That Might Surprise You That They Have Caffeine
As I was trawling my way through every available Starbucks drink and checking how much caffeine it has, I was surprised to find a lot more of them did, and a lot more of them had more caffeine than I expected.
All green teas
Almost all Frappuccinos, even the creme's except the ones on the list
Chai lattes
Hot chocolate (chocolate has caffeine)
Most Cold Drinks
Now a lot of these only have a small amount of caffeine, some only 20-40mg which is far less than a standard cup of coffee, but as soon as you start pushing that a little caffeine is the same as no caffeine the whole system breaks down.
This is why I was strict in checking that all of these drinks have zero caffeine according to the Starbucks website.
Caffeine Scale for Reference
It can be hard to know how much caffeine is a lot of caffeine, and while zero is zero if you're OK with having a little bit I thought I'd share roughly how much caffeine is in different drinks.
I know this can be useful if you're pregnant and need to be careful with your caffeine levels.
Espresso shot – 75 mg caffeine
Starbucks Grande Caramel Macchiato – 150 mg caffeine
Can of Coke – 34 mg caffeine
Can of Diet Coke – 46 mg caffeine
Starbucks Grande Coffee Frappuccino – 95 mg caffeine
Starbucks Grande Hot Chocolate – 25 mg
So the scale does vary quite widely. And if you're looking for zero caffeine then any of the drinks above are your best choice, otherwise head to the Starbucks website and check out the nutrition info for each drink where they share exactly how much caffeine is present in each one.
Sugar-Free, Caffeine Free, Low-Calorie Starbucks Drinks
The good news is that if it's sugar-free there's a good chance it's also low calorie because milk has sugars in it which is a lot of the calories of a Starbucks drink.
The best choices for a sugar-free, caffeine-free, and low-calorie Starbucks drink, are the Cold Iced Passion Tango Tea, Hot Mint Majesty Tea, or Hot Peach Tranquility Tea. All of which are zero-calorie, zero sugar, and zero caffeine.
These are all straight off the menu so you can easily order any one of them and you've got a hot and a cold option. Plus all three are very tasty, I absolutely love mint tea so that's my personal favorite and recommendation.
F.A.Q
Which Frappuccinos have no coffee?
All standard frappuccinos have coffee in them, which is their special frappuccino roast syrup, i.e. instant coffee mixed into a sugar syrup.
And all the Frappuccino Creme beverages have no coffee in them. But most still have some caffeine in them because of the sweeteners used. The ones that don't are the Caramel Ribbon Crunch Crème, Strawberry Crème, Vanilla Bean Crème, White Chocolate Crème, and the Pistachio Crème Frappuccino.
What Starbucks drinks can be decaf?
All of the Hot espresso drinks can be made with decaf espresso but you can't order a decaf Frappuccino there is no decaf alternative, so if you order a decaf Frappuccino it will either be made using a decaf espresso instead, which won't be as sweet, or it will be made without coffee at all.
You can also get the Iced coffee versions as decaf, like the caramel macchiato, for instance, it can be decaf and served hot or iced.
You also can't get decaf versions of the teas, the cold brew or the nitro brew, you'll want either a caffeine-free drink from the list above or to go with a decaf hot coffee.
Does the Starbucks Pink Drink have coffee in it?
The pink drink doesn't have coffee in it but it does contain caffeine, a Venti size has as much caffeine as an espresso because it's made with green tea.
So if you're avoiding caffeine but want this then you're going to want to order it in a smaller size.
Can you get Starbucks Refreshers without caffeine?
You can't get the Starbucks menu Refreshers made without caffeine, the caffeine is in the syrup and not added as a coffee, but if you ask the barista they might be able to make you a substitute with their passion tea.
Final Thoughts
On the scale of the whole menu, there are surprisingly few drinks that are completely caffeine-free.
But you still have these 14 delicious options to try, and if you have a good barista you see often you can ask them to help you make something as long as you know what the base is. I suggest Passion tea as a base, it's really tasty and goes with a lot of different flavors that they have.
Just be kind and do it when there isn't a massive line behind you!
Related Reading
What are the Cup Sizes at Starbucks?
21 Best Caffeine Free Starbucks Drinks (Ranked by Popularity)
Nitro Coffee vs Cold Brew (Comparing Chilly Concoctions)
How Is Coffee Decaffeinated? (By The Power Of Cool Science)
15 Healthiest Low Calorie Starbucks Drinks Ranked + How To Order Them
What Is A Cafe Misto? – The New Starbucks's Drink VS A Latte