by Scott
|
Last Updated:
April 4, 2022
This site participates in various affiliate programs including Amazon's. Purchases made via our links may result in commission at no additional cost to you.
Are you looking for the absolute best coffee possible? Same here!
I have tried and tested a myriad of coffee makers over the years and some have been brilliant, but others can be disappointing. A sad coffee is just not needed first thing in the morning.
If you're hunting for the best coffee maker you can get your hands on, then an automatic pour-over coffee maker is sure to deliver a brilliant coffee.
An automatic coffee maker is a special type of drip machine. It is a coffee maker that is designed to mimic exactly how a barista will make pour-over coffee. So, simply put, an automatic pour-over coffee maker is a really good drip coffee maker.
But there are so many automatic pour-over coffee makers on the market. Making heads or tails of the different options can be hard work.
Not to worry, I've reviewed the best automatic pour-over coffee makers available today.
Check out the summary below for a quick rundown of the best automatic pour-over coffee makers, just click the name and you'll be taken to their website where you can get some more info and buy yours.
Top 5 Best Automatic Pour Over Coffee Makers
1. Top Pick – Breville BDC450 Precision Brewer Coffee Maker with Glass Carafe
Brand: Breville
PROS
PID temperature control
Accepts both conical and cupcake style paper filters
Can brew up to 60 oz of coffee
CONS
The reservoir lid is a bit fragile
When it comes to coffee innovation, Breville is always on the scene showing off their latest tech.
This drip machine uses only the smartest technology to ensure the brewing temperature just absolutely perfect. It uses, what's called, a PID temperature controller. This is a smart little computer and thermometer that keeps the temperature exactly where you set it within tiny fractions of a degree.
This dripper doesn't just make regular drip coffee though; there are six different brew programs to choose from. Maybe you want a fast brew, or even a cold brew? If you feel like getting hands-on, there is even a setting for doing a good old fashioned manual pour over by yourself.
It even has a "gold cup" setting which brews to the gold cup standard set out by the SCA.
You control it all with a digital LED display on the side of the machine.
The Breville Precision Brewer gives you a choice over which kind of filter paper you want to use. It can accept both the flat-bottomed, cupcake style, paper filters and it can also accept the typical conical paper filters you will find in most home brewer drip machines.
I absolutely love that you can choose which filter you want to use. Not only does this mean you can just buy any filter, but you can try both and really taste the difference that each style brings to your brew.
Compared to the Technivorm which was our previous top choice it's a close race, they both make a super cup of coffee, but the cheaper price of this one and more settings makes it the slightly better choice. Plus the Technivorm never seems to be in stock which is a big negative in my eyes.
2. Best For Ease Without Compromise – Breville BDC650BSS Grind Control Coffee Maker
Brand: Breville
PROS
Built-in grinder with adjustable grind settings
Fully pre-programmable
Includes pre-infusion option called "Steep and Release"
Option to brew directly into a cup, travel mug, or the included stainless steel carafe
CONS
It can take some tweaking to find the perfect settings for you
Is there anything that tastes better than fresh coffee in the morning? There is one: freshly ground, freshly brewed coffee.
But it can be an involved process to grind your beans and set up your coffee machine in the morning. Not ideal when you're trying to fight through your morning grogginess.
Enter, The Breville Grind Control Coffee Maker.
When it comes to coffee machines, Breville is a titan of the industry. They really have thought of everything that could get in the way of you and a great coffee in the morning.
Just press the brew-button, and the Breville Grind Control will do the entire brewing process for you. From grinding the beans, to loading the grounds, and then brewing that amazing cup of Joe; this machine removes all of the work and gives you the freshest Java possible.
Is pressing a button still too much? Well, set a time for the drip machine to get brewing and have your hot coffee waiting for you when you wake up.
Amazing coffee really can't get any easier, or automated, than this.
3. Best For Perfect Brewing Temperature – Cuisinart DCC-3200P1 Perfectemp Coffee Maker
Brand: Cuisinart
PROS
Brew with the perfect temperature
Choice of glass carafe or stainless steel thermal carafe
Includes an auto-clean mode for easy maintenance
CONS
The water reservoir lid could open wider for easier refilling
This drip machine, as the name hints, is all about getting that perfect coffee brewing temperature. And let me tell you, getting that temperature and flow rate just right makes leaps and bounds toward better tasting coffee.
But why does the temperature matter so much? Please, let me tell you.
The optimal temperature is so important because that influences just what flavors from the coffee grounds dissolve into the water. Too warm, and you'll include harsher bitter flavors. Too cold, and you'll miss out on lots of amazing coffee taste; the flavor will be thin and boring.
You need hot water, but not too hot. Too cold, and you might as well make cold brew.
Not only does this little machine get the perfect brewing temperature, but it also makes it just at the perfect time. Simply program in when you want your coffee ready, and you'll be waking up to fresh delicious coffee every morning.
Straight out of the box, it can leave a plastic-like taste in the brew from the factory. It's easily sorted though. Make sure run two or three cycles through, with a full water reservoir, and that'll be the funny taste gone.
It's available from Amazon with a choice of either a glass carafe or a stainless steel thermal carafe. There is also a wide choice of colors so it will suit any kitchen.
4. Best Keep It Simple Option – Bonavita Connoisseur 8-Cup One-Touch Coffee Maker
Brand: Bonavita
PROS
Accepts diner-style cupcake coffee filters
Pre-infusion option to allow your coffee to bloom
Simple and easy to use, no fuss
CONS
For best results, you want to pre-heat the carafe
It can't get much simpler than pressing one button and your coffee is brewing.
Bonavita have really kept it simple, but brilliant.
The secret to the great brew in all in the filter basket design. This drip machine accepts the flat-bottomed cupcake style paper filters instead of the typical conical style filter papers. It's this same style of filter that's used in classic great diner coffee.
Just load in the water and beans; it'll brew you up one great cup of coffee.
It even has an option to include a pre-infusion, where it gives the coffee grounds a small shower of water and has a short break for bloom time. Coffee bloom is the bubbles that form on top of the grounds at the beginning of the brew. It makes for even better coffee if you wet the grounds and let it bloom.
The easiness extends to the maintenance too. All of the parts that ever need cleaning with any drip machine are dishwasher safe. That's the carafe, carafe lid, and filter basket can all just be thrown into your dishwasher.
With a 1.3 liter stainless steel thermal carafe, you can brew a massive batch of coffee and keep it warm for a long time.
5. Best Take-It-Slow-And-Get-It-Right Option – KitchenAid KCM0802CU Pour Over Coffee Brewer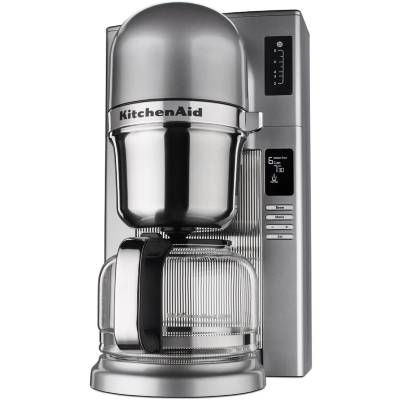 Brand: KitchenAid
PROS
Mimics how a professional barista brews pour-over coffee
8 cup capacity glass carafe
SCAA Certified
CONS
Slow to brew, but takes its time getting it right
The KitchenAid Custom Pour Over Coffee Brewer is designed to mimic exactly how a professional barista would make classic pour-over coffee by hand.
It even has different brew settings different roasts of beans. So you'll really get the absolute best out of whichever coffee beans you put into it by adjusting the brew time and flow rate. You'll get a completely different style coffee flavor just by choosing some different beans.
This machine is not about speed, or easiness, it's all about making brilliant coffee.
It is certified by the SCAA (The Specialty Coffee Association of America). This means that this dripper brews coffee within a specific set of conditions for optimal brew conditions. Essentially, it's a certified excellent coffee machine.
Available with a choice of either a digital LED display or with a traditional light up progress panel.
The glass carafe has an 8 cup capacity
Expert Buyer's Guide to Automatic Pour Over Coffee Machines
If you would prefer a regular drip coffee machine check out these reviews regular drip coffee machine check out these reviews
Glass Carafe vs Stainless Steel Carafe
Glass is what carafes are typically made out of. They are easy to keep warm, and you can see exactly how much coffee is in there. They also don't affect the flavor of your brew, provided they're clean of course.
The only downside to a glass carafe is that they can break fairly easily. They will also only become more brittle over time with all of the changes in temperature they will experience over time.
A stainless steel carafe on the other hand will definitely not shatter. Unless you're trying to, but even then you would need a big hammer.
Another benefit of a stainless steel carafe is that they are often insulated. So the coffee inside will stay warmer, for longer, without having to keep it on a hot plate.
The downside to a stainless steel carafe is that they're not transparent. Sometimes they might have a little sight glass built into the side, but for the most part, you have to pick them up or take off the lid and look inside to find out how full they are.
Carafe Spout
The carafe spout is one seriously overlooked design feature.
have you ever excitedly gone to pour some freshly brewed coffee only to have it dribble down the side of the carafe purely because the spout clearly hadn't been given any consideration by the designers?
It's an easy one to look out for but also easily forgotten.
Look for a wide spout that comes to an elongated point. That'll collect all of the coffee that might spill over the edges and direct it all to a nice controlled point.
Hot Plate
Did you know that some hot plates are too hot?
The perfect temperature to brew coffee at, and the ideal temperature to maintain coffee at, is between 195 and 205 degrees Fahrenheit.
Most hot plates will automatically shut off after a certain amount of time. This is a safety feature. You certainly don't want that thing sitting there warm all the time; especially if you've wound up forgetting about it like I do.
Another thing to keep in mind is that you don't stash your empty glass carafe back onto a roaring hot plate. That's one sure way to increase the chances of the glass carafe shattering from suddenly getting too warm.
Temperature Control
Like we said above, the perfect temperature to brew coffee at is between 195 and 205 degrees Fahrenheit.
There are different kinds of technology that can be used to ensure coffee brews in between this perfect temperature range. The best kind of technology for the job is called a PID microcontroller. This is a neat little computer that can monitor the temperature and very quickly make adjustments to the heater to ensure the temperature stays exactly where it's meant to.
Water Tank Volume Level
To brew consistently great coffee, you want to be using the perfect ratio of coffee to water.
This perfect ratio is called the golden ratio of coffee. This isn't a set ratio though, it completely depends on you.
Most people find that their own perfect coffee ratio is around 1:15. That is, for every 1 gram of coffee, you have 1 gram (or 1 milliliter) of water.
Brew Basket
The brew basket is what holds your coffee filter. Whether you're using a paper filter, stainless steel filter, or even a gold filter, you pop it in here.
There are two main shapes of the brew basket. That's the classic conical-shaped filter that you'll find in most home brewer machines and the wide and flat cupcake style filters that are typically used in big dripper machines like those in diners.
Showerhead
The shower head is one seriously important design aspect in ensuring you get a great brew.
This is the part that showers the coffee grounds with hot water.
You want it to provide an even distribution so that all of the grounds get their fair share of water and your brew gets the optimum extraction.
Don't forget to use quality coffee
This isn't particularly useful in buying a machine but once you buy on eif you feel disappointed by the quality, make sure you're using a quality coffee beans.
Because just as the bad apple ruins the bunch, so does a bad coffee bean ruin the cup. There's 100s of different factors that go all the way through the process from coffee plant seed to your hot cup of Joe. Enough that scientific papers are written about the complexity of coffee!
So when you're splashing out on a new machine make sure you consider your ingredients too.
F.A.Q.s
What is an automatic pour-over coffee maker?
Googling for an answer to this one can yield some foggy results.
An automatic pour-over coffee maker and a drop machine are both very similar. The difference is that an automatic pour-over coffee maker is designed to make brilliant coffee by mimicking how a barista would make pour-over coffee. It's a premium, high-quality, drip machine; whereas a regular drip machine will just spray hot water over your coffee grounds until there is no water left.
What are the best coffee beans in an automatic pourover coffee maker?
Pour over coffee is brilliant at fringing out the sweeter, lighter, and fruitier flavors of coffee and ever better at avoiding harsh bitter flavors.
I recommend choosing medium roasts and light roasts.
What is the best coffee grind for a pour over electric coffee maker?
You will always get a better coffee by freshly grinding the coffee beans yourself.
The best grind for both pour-over and drip coffee is a medium grind. So the grounds should be around the size of sand granules, and the texture will be something similar to slightly damp sand.
The perfect grind size for you will always take a little bit of tweaking. So do play around with your grinder to find the best setting.
Remember that a burr grinder is the best kind of grinder for coffee. Whereas a blade grinder is not very good for coffee but they do make decent spice grinders.
Does coffee made in an automatic pour over coffee maker taste the same as regular pour-over coffee?
You will have a very hard time telling the difference between coffee from an automatic pour-over coffee maker and a regular manual pour over by hand.
Maybe if your coffee was made by an award-winning barista, you might notice a difference. But really, you're going to certainly get a great coffee from an automatic pour over coffee maker.
Is pour over coffee better than drip?
Pour over does tend to taste better.
While drip coffee is, in essence, trying to be pour-over; it's not the same. Pour over often takes longer, and you end up with a much more vibrant flavor.
Is pour over coffee worth it?
Yes, definitely.
Pour-over coffee takes effort, but you get such a brilliant brew out of it.
Since this article is all about automatic pour-over coffee makers, well, there's no effort involved at all. Just brilliant coffee.
Other Coffee Machines
OXO BREW 9 Cup Pour Over Coffee Maker
Brand: OXO
PROS
Easy to program
Handy freshness indicator
PID temperature controller
SCA Certified
CONS
It isn't called Barista Brain anymore
The filter basket can drip a little bit when the carafe is not on the plate
This is a neat little automatic pour over coffee machine that has earned its own little fanbase in the coffee world despite being rebranded. It seems that this model was originally named as the "OXO On Barista Brain", but is now called the OXO Brew. Well, I liked the name, maybe OXO wanted less of a morning zombie vibe to their little dripper.
This is one sleek and modern little coffee machine.
The OXO Brew is SCA certified, meaning that it will brew your Java under a very specific set of conditions for consistently brilliant coffee. To do this, it uses a PID microprocessor to ensure the water temperature stays between the perfect brewing temperatures of 197.6 and 204.8 degrees Fahrenheit.
I really like the "freshness indicator". That's something I've never seen on any other coffee maker before.
We all know that coffee is best when it has just been brewed, so this machine gives a little indication of just how fresh it actually is. Great to know when it's been sitting there for a while.
The double-walled stainless steel thermal carafe ensures that your coffee stays hot until you're ready to drink it.
It's super easy to program it too. I do love waking up to the smell of fresh coffee. Better than any alarm, that's for sure, and what a great way to wake up.
Manual Pour Over Coffee Makers
When looking into automatic pour-over coffee makers, it's always worth remembering what the manual pour-over coffee maker world has to offer.
Bodum Pour Over Coffee Maker with Permanent Filter
Brand: Bodum
Brewing Process: Pour-Over
PROS
Easy to use
Choose between sizes of 12 Ounces, 17 Ounces, 34 Ounces, or 51 Ounces
Wide variety of styles to choose between
Dishwasher safe
CONS
Made of glass, it can break
The Bodum Pour Over Coffee maker is in essence, pretty much the same gadget as a Chemex, and it's not shy about that at all. They're so similar that we've made an article comparing the Chemex and Bodum Pour Over directly.
What's more, if you brew using a paper filter in this little menace, I promise, you would not be able to tell the difference between this and coffee from a Chemex.
It comes with a reusable coffee filter, so there's no need to worry about making sure you've got enough paper filters. Just empty and clean out this one and it's ready to go for the next brew.
It couldn't be any simpler to use. Just pop a filter in the top, drop your ground coffee in, and pour hot water over the grounds. Easy.
It comes in a choice of a variety of sizes and colors to choose from. So you'll definitely find a style to suit you.
CHEMEX Pour-Over Glass Coffeemaker
Brand: Chemex
Brewing Process: Pour-Over
PROS
Made of borosilicate glass which will not affect the flavor of your coffee
Sleek and stylish
A world-famous coffee gadget
CONS
Made of glass, it can break
Fairly expensive for not very much
We cannot forget about this titan when we're talking about pour-over.
Here it is, the one, the only, The Chemex.
It's the epitome of the sweet simplicity of pour over coffee. There's no need to complicate it, just a glass vase with a little wooden heat proof handle.
Don't forget, you can make cold brew and even tea in this thing.
There's something about the aesthetic of a minimalist thing like the Chemex that just makes so much more of the coffee itself. Suddenly it's not just a delicious drink, but it's also a piece of art.
Hario V60 Coffee Dripper, Size 02, Olive Wood
Brand: Hario
Brewing Process: Pour-Over
PROS
Perfect for a small number of cups
Avaliable in a range of different materials, sizes, and styles
Makes delicious coffee anywhere
CONS
You will struggle to brew massive amounts
Here we have a strong alternative contender to both the Chemex and the Bodum Pour Over Coffee Maker. Coming from the Japanese brand, Hario, this is the V60.
The V60 is designed to be a simple conical filter cone with a 60 degree angle, but this V is also for versatility.
Why limit your coffee brewing to just a jug? The V60 gives you the option of brewing either directly into your mug, or if you're making more coffee, brew over a jug or carafe.
What's more is it's just the size of a coffee mug, making it super portable. It's easy to take with you wherever you go.
Whether you're going travelling or just to the office, the V60 can fit in your backpack so you can have great fresh brewed pour over coffee anywhere.
Stovetop Coffee Makers – A Strong Alternative To Pour-Over
Coleman Stainless Steel Percolator
Brand: Coleman
Brewing Process: Percolation
PROS
Makes some really strong coffee
Super easy to use
A two-century old, tried and tested, design
CONS
There is a chance you can over-extract your coffee
A coffee percolator is only just slightly different in design to a Moka pot, but this small difference results in a seriously different brew. In a percolator, you will fill the bottom chamber with water and load your ground coffee into the top chamber. You then set the pot on your stovetop.
As the pot gets warmer, pressure builds up in the lower chamber. Eventually, the pressure is strong enough to push the water up into the top chamber through a little pipe in the middle.
This little flow creates a siphon effect, so the liquids in the bottom chamber will keep flowing upward until it is empty. The really neat part is, the lower chamber won't ever become empty. This is because when the water reaches the top chamber, it pours over the grounds, trickles through them, and falls back down into the lower chamber, refilling it.
So your water, and eventually brewed coffee, will keep being cycled through the ground beans as long as the pot stays on the heat.
These clever little bits of kit can make some darn strong brews. Some will call it espresso-like, although espresso takes quite a lot more pressure.
One thing to be careful of with a percolator pot is to not let it cycle for too long or else you will end up with some seriously over-extracted coffee. Over-extracted coffee will taste bitter and harsh.
With care, you can get the exaction just right, and end with an
Bialetti Express Moka Pot
Brand: Bialetti
Brewing Process: Moka Pot
PROS
Makes strong, espresso-like, coffee
Super easy to use
A world-famous excellent bit of kit and brew method
Rugged design
CONS
Makes a small amount, but you can get larger pots
The Moka Pot is another age-old, stovetop, coffee pot. Invented by Bialetti in 1933, it is quite similar to a percolator pot, but it also produces a very different brew from a percolator.
The Moka pot has three main sections. There is the lower chamber for freshwater, the middle basket where the ground coffee goes, and then the top chamber where the brewed coffee splurts up into.
Unlike a percolator pot, a Moka pot will not cycle your coffee through the coffee grounds. It will instead push the water through your coffee grounds with a bit of pressure. It's this little bit of pressure that gives Moka Pot coffee the reputation of being espresso-like.
A Moka Pot really couldn't be easier to use. Just fill the lower chamber with water to just below the little valve in the side. Pop the grounds basket in, and fill it with coffee; make sure you don't press the grounds down. Screw the top half on tight and sit the pot on your stove on a high heat.
As soon as you hear the coffee spluttering up into the top chamber, quickly take it off the heat and serve it up.
Delicious strong coffee. Super easy.
Technivorm Moccamaster 59616 KBG Coffee Brewer
Brand: Technivorm
PROS
Choice of hot plate temperatures to keep your coffee warm
Automatic shut-off after 100 minutes
Long lifetime and easily replaceable parts
Reliably, and consistently, excellent coffee
5-year warranty
CONS
The first choice for the absolute best automatic pour over coffee maker is the Technivorm Moccamaster. When it comes to making an amazing mug of drip coffee, the Moccamaster steals the show.
This bean brewer has been wowing coffee fanatics for decades and Technivorm has only improved upon their design over the years.
I absolutely love the sleek timelessness of the design. It looked like a coffee machine of the future back in the 1950s and it still looks like a coffee machine of the future today.
It's not just a coffee machine of the future in looks too. This little appliance is the definition of high-quality coffee machines.
The clever showerhead design ensures that you get an even extraction throughout the coffee grounds. You can also choose just how warm you want your coffee; there is the option of keeping the hotplate at either 175°F or 185°F.
From the copper heating element and stainless steel design to the consistently brilliant brew it produces every single time; this drip coffee maker is simply the best of the best.
Available in a massive range of color options to choose from, there is a Moccamaster for every kitchen.
Final Thoughts
Phew, that was a long haul as we poured over all the different automatic pour over coffee machines available. Not to mention some manual pour over coffee makers and some neat alternatives.
Hopefully, you've got a better idea of the best options available. You'll be making amazing cups of coffee in no time.
If you have any questions then let me know in the comments below.
Related Reading
24 Best Coffee Makers For College – The Complete Buyer's Guide
Best Reusable & Paper Filters – For Every Machine & Brew Type
Chemex vs V60 (Powerful Pour-Over Potions)
10 Chilled Cold Brew Coffee Cocktails
12 Warm and Cozy Coffee Cocktails
10 Best Coffee Makers Under $100 – An Expert Buyer's Guide
Can you guess what keeps me up at night? You guessed it! Copious amounts of coffee beans. What? I brew them first.